In June 2015, I went on a trip to Ecuador with my classmates through Xperitas. It was my first experience out of the country, and I had been dying to leave home and experience a new place. I am so happy I had the opportunity to go on this trip. Spanish has always been my favorite class, and the opportunity to utilize my Spanish skills in a foreign country was incredibly valuable to me. I saw so many amazing sites that I will never forget. Three of the most stunning sites were the view from the Teleférico in Quito, the historic center of downtown Quito and Cuicocha Lake.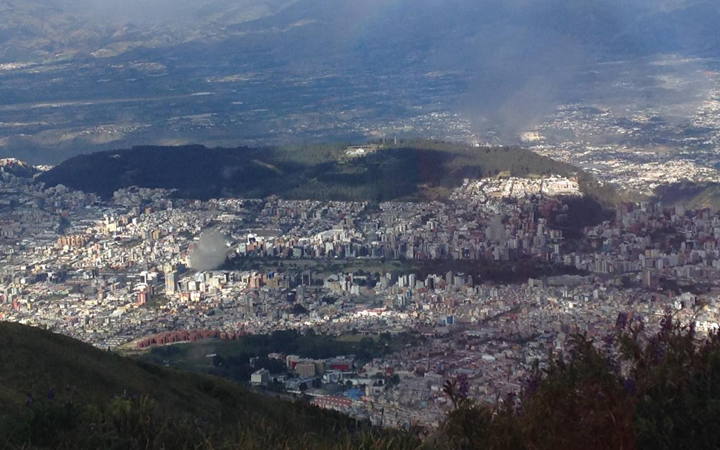 My trip to Ecuador was the most exciting trip of my life. One of the most memorable parts was definitely when my group and I took the Teleférico, a cable-car, to the top of a mountain to look over Quito. We were at about 15,000 feet, and the view was breathtaking. Quito looked so vast and it was hard to believe that a city so large and dense existed. I come from a relatively tiny town in Indiana and the largest city I have visited is Chicago, so overlooking a city as large as Quito was amazing and eye-opening. I felt pretty small on top of that mountain, and it was an awe-inspiring experience to take a step back from the city and look at it from a totally new perspective.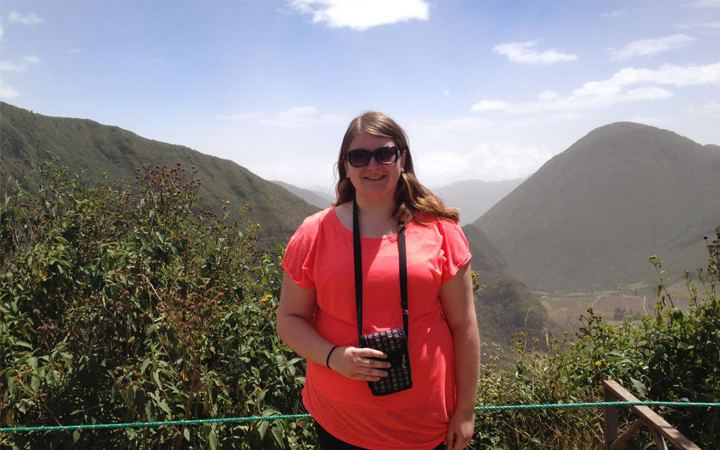 The historic center of Quito was where my trip in Ecuador really began, and there was no better introduction to Ecuador than here. I was amazed at all of the colonial architecture and all of the people that were walking around the historic district. All of the buildings of this district were colorful and beautiful. The streets were loud ­– in some places there were enormous amounts of people and tons of street vendors. I had never walked the streets in a city as populous as Quito, and this was an exhilarating experience for me. I love being around all these people and hearing Spanish everywhere. Quito is an absolutely amazing city to visit.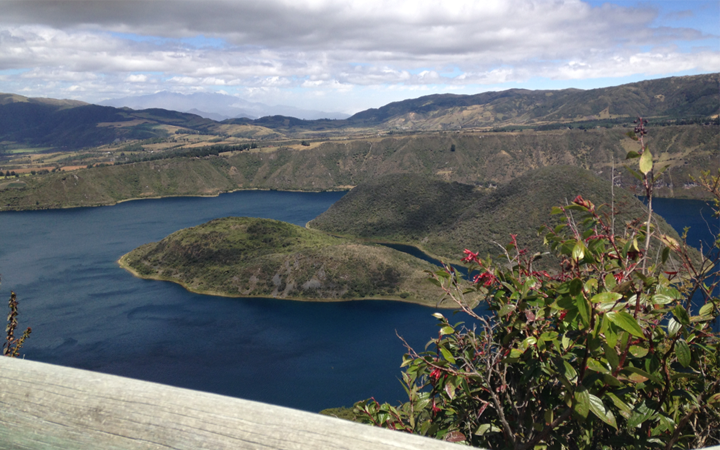 The third beautiful view of my trip to Ecuador was Cuicocha Lake. We hiked around the lake in order to see more of the nature in Ecuador and get a beautiful view of the lake. This part of the trip was the most difficult, but also the most rewarding. The altitude is very high in Ecuador – about 9,000 feet in Quito. This can make it difficult to breathe while doing physical activity and more energy has to be used to do these physical activities. The hike around the lake was all stairs and slopes, which, combined with lack of oxygen, made this hike incredibly difficult to complete for me. Fortunately, I did end up finishing the hike and it was an accomplishment I am very proud of. The lake was so beautiful and I am so glad that I was able to see it.
These sites in Ecuador are places I will surely never forget and I will always cherish the time I spent here. I am so grateful to Xperitas for giving me such a wonderful trip and so many new experiences. My trip to Ecuador was totally magnificent, and now I want nothing more than to go back and experience Ecuador all over again.
Let us assist in planning your next immersion experience and help make it accessible to all of your students! We have many destination options for Language Immersion programs worldwide. Necessary traveler protections for teachers and students are already integrated into our programs too!   Contact us today! 
Other Articles You May Be Interested In