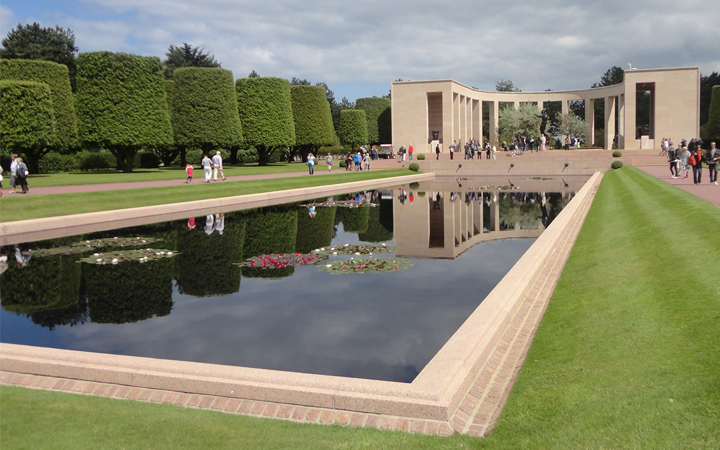 La Vie en Normandie
15-Day Program | Your student group French language immersion begins in Paris! You'll master the métro, visiting the Musée du Louvre or the Musée d'Orsay, l'Arc de Triomphe and Sacré-Coeur. Then travel north to Normandy to the historic D-Day Beaches and Bayeaux. Après, vos élèves disent "bonjour" à leurs familles françaises. Our unforgettable Family Stay Experience® allows students to become temporary locals and appreciate the everyday French lifestyle. French language skills learned in the classroom come to life in this unique language immersion experience. Make lifelong memories with this authentic approach to cultural exchange and language learning. A visit to Versailles provides a fantastic finish.

Dates listed are tentative, pending teacher approval and airline confirmation.
Program Overview

15 Days
Teacher Led
Family Stay: Xperitas Family Stay
From $4,199.00 pp from

Features

Round-trip airfare
Overnight accommodations per itinerary
In-country transportation per itinerary
Insurance
24/7 emergency support while abroad
Program Itinerary
Day 1

Departure

Enfin! Your flight will take you and your friends to exciting Paris, "City of Lights."

Included meals: None
Day 2

Paris

After your hotel check-in, explore the quartier and practice your French with waiters and shopkeepers. Learn how to use the métro as you set out to explore this great city! Enjoy an Xperitas welcome dinner.

Included meals: Dinner
Day 3

Paris

Stroll through the Musée du Louvre with its glass pyramid and have lunch at a sidewalk café. Visit the Eiffel Tower or take in the Musée d'Orsay. The Arc de Triomphe and the Champs-Elysées are a must. Find a cozy crêperie for dinner.

Included meals: Breakfast
Day 4

Paris

Experience Montmartre and take in a bird's eye view of Paris from the tower of the exotic Basilique du Sacré Coeur. Picnic on the steps and then head to Beaubourg and let the street performers near the Centre Pompidou entertain you! Take in the city by night during your Bateaux Mouches Seine river cruise.

Included meals: Breakfast
Day 5

Blois

Discover the Loire Valley and the beautiful châteaux of Chambord and Chenonceau.

Included meals: Breakfast
Day 6

Bayeux

See the Normandy Beaches and relive World War II history by visiting the Musée du Débarquement in Arromanches. In the afternoon, view the Bayeux tapestry.

Included meals: Breakfast
Day 7

Saint-Malo

Explore this magnificent walled port city and later climb the narrow winding streets to discover l'Abbaye de Mont St. Michel. Be sure to sample some galettes, a specialty of the region.

Included meals: Breakfast
Day 8

Family Stay

This is the day you've been waiting for! You will finally meet your famille française.

Included meals: Breakfast, Dinner
Day 9 - 13

Family Stay

Many adventures await you during this coming week as you spend your days and evenings with your family.

Included meals: Breakfast, Lunch, Dinner
Day 14

Paris

Say "Au revoir" to your new family and head back to Paris for one last day. After visiting the immense Palace of Versailles, spend one final afternoon shopping or just enjoying your surroundings. Enjoy an Xperitas farewell dinner.

Included meals: Breakfast, Dinner
Day 15

Return

You'll want to stay, but it's time to go! Your flight from Paris will take you back to the U.S.
Included meals: Breakfast
The Family Stay Experience®
We believe that spending time with a family, speaking their language and participating in their customs is the best and most authentic way to experience another culture. It's also what makes our programs different from any other travel experience. After 50 years of arranging family stays, we're no longer surprised when our participants say that spending time with a family was the best part of their experience!
Non-Profit | Since 1972 | 100 Host Communities & Growing


Xperitas is a community of lifelong intercultural learners who believe in a world built on deeper understanding between cultures. Our values are reflected by our commitment to increasing accessibility to language immersion programs. We provide aid and merit-based scholarships to qualified participants. Xperitas also achieves this goal by providing grants to schools, better helping to promote global communication through language learning.
xperitas.org
info@xperitas.org
800-892-0022